How Can I Find a Business Coach?
Below is a list of 5 preliminary actions that will help you select a business coach:
Ask friends and colleagues for referrals or search online for coaches.
Look for coaches with a high degree of knowledge and practical experience. Your coach needs education and training, insights and direct experience preferably in your business niche or area of need.
Call some coaches you are interested in and a have a brief phone consult.
Tell the coach about your business situation and what you are looking for.
If you prefer one or two coaches that you speak with informally, then call them back and ask for an" informational interview" to gather more information and determine if you two might be a "good match".
What Questions Should I Ask a Prospective Coach?
What do I need to know about a coach before deciding to hire him or her? What qualities and experiences does a coach need to have? How can I be certain their help will provide long-term course-correction?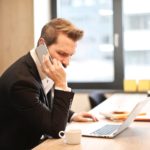 Ask the following questions before selecting your coach:
How long have you been a business coach?
Did you have any formal training as a business coach? Are you certified by a training institute?
Do you have experience as a business owner?
What types of businesses are you familiar with?
Have you ever worked in or coached people working in my industry?
How many individual business clients have you worked with?
What level of managers or executives have you worked with?
If I hired you, would I be working directly with you as my coach or would you assign me to another coach to work with?
Do you meet with clients in-person, face-to-face or by telephone?
Are you willing to visit my work place to see and assess our operations and meet with me, my boss, direct reports, colleagues and team members?
Will you help me to identify targeted and measurable goals and objectives?
Will you help me to develop a specific and strategic action plan with due dates?
How do you ensure that I stay on track toward reaching my goals?
Will we meet regularly? How often?
Will we meet face-to-face or talk by phone?
How long does each coaching session last?
What is the duration of a coaching engagement? How many sessions or months?
How do we manage changes and make adjustments during the coaching engagement?
How do we assess progress?
Do we draft and commit to a contract?
What are the fees and additional costs for your services?
Gather this information and be ready to negotiate a contract.
Make a Decision
After collecting this information, review your notes. Make a list of the "Pros" and the "Cons" of each coach you interviewed and set some priorities. Also generate a list of additional questions to ask each coach.
Then consult with one of your trusted colleagues or your boss. Ask for their feedback and assistance in making a decision. Then finalize your set of questions and make a decision regarding your preferred coach.
If Needed, Get Your Decision-Maker Involved
After making your decision, get approval from your superior, the one who makes the final expenditure decisions. They should set some limits and expectations and help you with the contract. It may be wise to get your superior to participate in another discussion with the coach before making a final decision. Having his/her buy-in and support can be very helpful.
Finalize Your Decision
Then call the coach and continue your discussion. Ask your new questions and get clarification on issues. Allow the coach to set the agenda for hiring him/her. He/she will advise you how to go about creating a contract.
I'm an experienced business coach and ready to help you maximize your potential, tap your gifts, and help you run your business well.
To learn more about my "Business Performance Coaching", click on this link:  http://www.drrevelmiller.com/what-we-treat/business-performance-coaching/
Call me today at 805-448-5053

to discuss your business coaching goals and my services.