How Can I Get Others to Join Me in Solving a Problem?
Some problems may not be yours alone. A few of your problems might be shared with others or they may necessitate help from others. For instance, solutions could necessitate help from your partner, friends or family members or your employment boss, colleagues or work team members.
Here's How to Get Others to Join You
Follow These 8 Steps:
Solicit the help you need directly from the person who can help.
Present the problem and explain how you would like to go about creating a solution.
Let them know how and why they are involved and how they can help.
Convince them of how they will personally benefit from joining you.
Answer their questions and encourage their feedback and suggestions.
Identify the roles you both will play.
Make an initial plan for how to start.
Get a commitment to join in.
Hopefully, they see their personal benefits in helping you, recognize the wisdom in your plan, and commit to joining you.
Couples Have Relationship Problems
Married and unmarried partners often have problems. Usually they work out their issues together but sometimes the problems become more frequent, complex, painful and destructive. At times one partner keeps nagging the other with little response. Or, both partners ignore the issues because they don't know how to resolve the problems or they believe it will be too painful to try to work on them together. However, if they don't work on the difficulties together then they may slowly lose their love connection, caring and affection for one another. This is a painful way to live with a partner.
Couple counseling and marital therapy are designed to help partners identify the obstacles between them and to help them remove barriers that hinder their relationship so that they can live with more love and intimacy with one another. This is not always easy but successfully working through problems is very gratifying, relieving and enlivening.
Families Have Problems
There are also problems within families. The issues, conflicts or misunderstandings may exist within the smaller nuclear family or smolder within the larger extended family. These, too, are very painful and cause suffering and resentment. At times issues blow-up and result in increased hurt or estrangement.
Family therapy was developed to assist family members face difficult problems and resolve them. Mental health professionals work with families to help them become more trusting, communicative, supportive and loving.
Business Work Teams Have Problems
Many employees work together to provide leadership, manage processes, solve problems, and create new products and services. Unfortunately, all employees do not function well with one another. When assigned to work teams the productivity may be high or low depending upon interpersonal relationships, level of commitment, leadership effectiveness and team member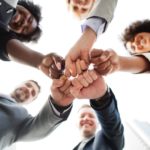 communication.
Sometimes, a project team's productivity dwindles, goals are not met, and products and services are not produced or improved. The team gets stuck and discouraged and the business eventually starts losing money.
Many companies hire outside consultants or business coaches to come into their company to assess the team's problem, create a strategic plan to solve issues, give guidance to the members and become more productive.
Who Can I Turn to When I Get Stuck Solving a Problem with Others?
You can ask for assistance from a number of different types of professionals:
With relationship problems, you can consult with a couple or marital therapist.
With family difficulties, you can work with a family therapist or consultant.
With work team issues, you can engage a business consultant or an executive or work team coach.
As a psychologist I am trained in couple and family therapy as well as executive coaching. I have experience working with couples and families as a therapist and with companies  as a business performance coach or an executive coach. If you need help in one of these areas, give me a call. I will definitely have some suggestions for you and you may want to engage me as the therapist or coach to help you in your particular situation.
Call 805-448-5053 for a brief phone consultation to assess your problem and get some immediate feedback.